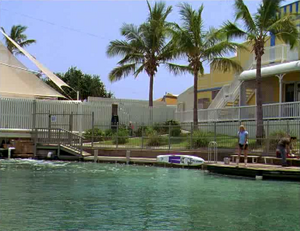 The Blue Stone Aquarium is a sea-creature habitat that features many varieties of fish, shark and coral as well as a dolphin.
Blue Stone Aquarium opened up a new under sea environment, thanks to generous donation by Jason Platt, Cynthia's father. The Aquarium Director organized a grand opening ceremony, which is when June fell into the water, and Charles Menlow Scott saw her.
Incidents
Edit
June falls in the tank, transforming into a mermaid. To avoid being seen, she ducks under the water where she is spotted by a young boy who was watching the fish swim from underground.